July 8, 2015 in Home Improvements, Idea Corner
There are many reasons why people are opting for laminate over hardwood flooring these days. Setting aside cost, laminate has more durability over most hardwood options. And it doesn't hurt that laminate is as easy on the eyes as it is to install. And for the simplest installation of floating laminate flooring, look no further than this tutorial from One Project Closer.
Here's what's needed to get this project done:
Laminate flooring
Plastic Underlayment
Shoe molding
Molding adhesive
Thresholds
Miter saw
Table saw
Jig saw
Coping saw
Utility knife
Level
Hammer or rubber mallet
Pry bar
Multitool or flush-cut saw
Finish nail gun
Compressor
This may seem like a long list, but don't let the length fool you, this project can be done by most novice home improvers. Let's get started!
Begin by preparing the subfloor, making sure that the surface is level and acclimated to the climate of the room. Then plan out how the boards will lay in the room, making sure the planks will be uniform and equal.
Now it's time to lay the plastic sheeting. These sheets should be running tight along the walls and secured with the adhesive on the bottom of each sheet.
Time to lay the boards! Make sure to leave a 1/4″ gap around the perimeter for any expanding or contracting that might occur in the wood. It's important to have tools on hand to cut the pieces to size, especially when it comes to door jambs and doorways.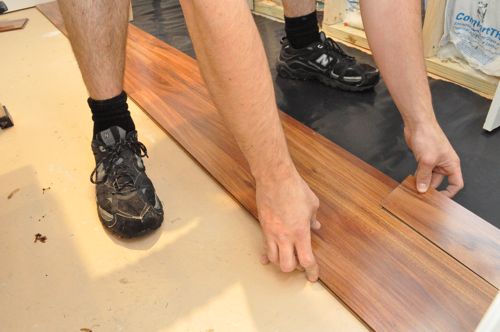 Once all the locking tongue and groove floor boards are in place, focus on the shoe molding and threshold pieces.
For the shoe moulding, use a nail gun, making sure to nail into the baseboard. For the threshold pieces, only gluing with molding adhesive is necessary.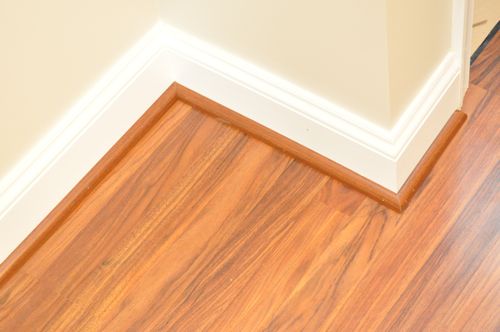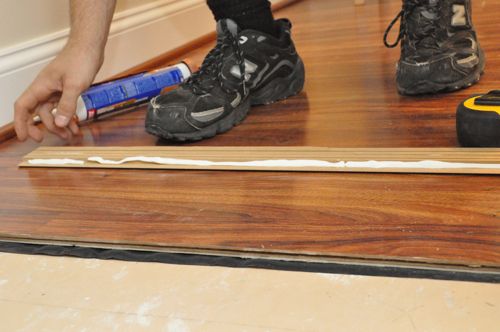 When complete, marvel not only at the time and money saved, but the sophisticated look achieved!